Are you thinking about selling your home?  Selling your home is not just about posting your listing on MLS.  It is a multi-step process that requires significant amount of preparation and the best marketing strategies.  Instating the help of an experienced agent is pivotal in getting the highest price for your home.
What Sellers Can Expect from Andrea's Team
Andrea's team of professional designers, stagers, photographers, videographers, and where needed, trades and contractors, aims to prepare & present every home at its best, while her multi-faceted targeted marketing approach delivers her clients' homes directly to the attention potential buyers.  Andrea's seller clients receive the following:
Complimentary home evaluation
Complimentary plan for best home presentation
Complimentary staging and space planning – up to 6 hours
Direct access to Andrea's trade team in instances where painting, renovating, or renting of furnishings and home decor might be needed
Professional photo shoot and 3D walk-through video of home
Professional print brochures of home
MLS listing using professional photos, video and measurements
Multi-faceted targeted marketing campaign, including print, web and social media advertising delivered directly to the attention of potential buyers.  (Statistics from past listings show that Andrea's targeted marketing campaign brings in up to twice as many hits on her listings than MLS does alone.  Using targeted marketing in tandem with MLS yields the best results.)
Negotiation for highest home price possible when offer is received
Guidance through the entire sale process including correspondence with inspectors, lawyers and mortgage brokers.
It is important that you feel comfortable with the individual or team you choose to partner with, and that you have complete confidence in their ability to price your home, prepare your home for best presentation, and ultimately to promote your home aggressively.  There are several great agents serving the Calgary area, and Andrea is one of them.  See what past clients have to say about Andrea's services, or connect with Andrea directly by requesting a complimentary Home Evaluation.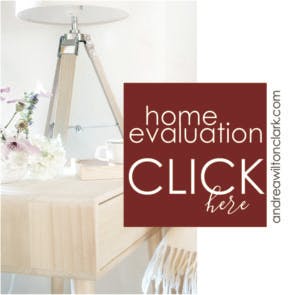 General Overview of Selling Process
There are many things you'll need to consider, and to help you through it, here's a general overview on what to expect and prepare.
Getting Your Finances in Order – Don't worry if you're still paying off your mortgage, there are several options depending on what type of mortgage you have. Talk to your lender to find out what options are available.
Pricing Your Home & Timing – Pricing your home too low or too high is not an option. Don't fall for the trap of choosing the first agent who suggests the highest asking price, as pricing is just the first step in establishing the best platform for the sale of your home.  Setting a fair price will attract more potential buyers and give your home more exposure. Andrea will help you price your home to sell, answer questions about best timing to sell, and share her knowledge of local market trends & conditions.
Preparing Your Home For Best Presentation – It's simple … homes that present well will sell faster and for more than homes that don't.  Homes that don't present well tend to sit on the market for months on end and see several price drops before suitable buyers are found.  Given that each price drop tends to be $5,000 to $15,000, facing several price drops can be costly and frustrating.  Preparing your home for best presentation is therefore absolutely pivotal in getting the highest possible sale price for your home.  (In fact, some statistics show that well presented & staged homes sell for an average of 6% more than their non-staged counterparts.).  Andrea will be able to guide you in the steps needed to achieve the best presentation possible for your home.
Marketing And Promotion – Listing your home on MLS is a key step but not the only step necessary to properly market your home.  A multi-faceted aggressive targeted marketing plan, using both digital and traditional methods, is critical in bringing your listing to the attention of as many potential buyers as possible.  Andrea's marketing platform uses print, web and targeted social media campaigns.  Marketing material used by Andrea includes the highest quality professional photographs and 3D walk-through videos.
Closing an Offer – 

Once an offer has been negotiated and accepted, the buyer of your home will want to conduct a home inspection and potentially negotiate the cost of any repairs. Andrea will help you guide this process.  When everything is finalized, your lawyer will walk you through the paperwork and legal bits needed for final closing.