Are you considering buying a home?  Whether it is your first home, a luxury home, or a rental home, buying a home is one of the biggest decisions you'll make in your life. It's a complex ordeal that requires a lot of planning, where instating the help of a knowledgeable agent can be pivotal in making the process run smoothly.
What Buyers Can Expect from Andrea
Andrea's thorough understanding of market dynamics combined with her experience with starter, investment and luxury homes makes purchasing fun and enjoyable. Andrea guides buyers through many options, negotiates aggressively to ensure her buyers get the best price possible, and when needed will draw on her vast pool of resources in design, construction and development (and even new home builders) to find the perfect home for every client.
There are several great agents serving the Calgary area, and Andrea is hands down one of them.  See what past clients have to say about Andrea's services, explore the complimentary Mortgage Calculator below, attend one of her monthly workshops, or meet up with Andrea in person to chat about your next home.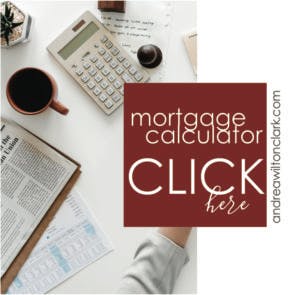 General Overview of Buying Process
There are many benefits to home ownership — pride of ownership, the ability to make home improvements, building of equity, and market appreciation.  To ready you for this, here is a general overview of what to expect and prepare.
Get Your Finances In Order – The first thing you'll need to do is put money aside for a down payment. This amount is (at minimum) 5% of the purchase price of the home you're planning to buy. Second, you'll need to meet with a mortgage broker to determine what you can afford. Shopping around for the best rate is highly recommended.
Imagine Your Home – Once you've established a price range, it's time to decide what type of home will best suit your lifestyle. Think about things like access to schools, recreational facilities, what the neighbourhood is like, and so on. Why you're choosing to buy should help answer these questions for you — so think about it carefully. You may want to put this down in writing and create a needs v/s wants list.
Meet With Andrea – It's important to partner with an agent you feel completely comfortable with. Andrea can help you find your dream home by setting up viewing appointments, pulling existing and historical market statistics, and gauging sale price trends in the specific area you are interested in.  Andrea is experienced and knowledgeable who will represent your best interests.
Search for Your Home – Using the property search on this site and consulting with Andrea, you will be able to find homes in your desired area. You can sign up for auto alerts where as soon as a home specific to your criteria hits the market you will receive an email.  Or, if you choose to want to have a weekly update of new listings within your target area, then this is also easily done.
Offer & Closing – Andrea will help you place an offer that the seller will either accept, counter, or reject. After you've negotiated a conditional offer, you'll need to conduct a home inspection and deal with any repairs (the cost of which you can also negotiate with the seller).  You will likely have to set conditions for financing, inspection, and potentially condo document review, so that you have an opportunity to ensure that everything is in order prior to signing the final offer.  Andrea will help you through each of these steps.  Once everything is finalized, your lawyer will walk you through the paperwork and legal bits needed to close.