I show homes and hear comments made by my buyers on a continuous basis.  In general, buyers tend to gravitate to new or near-new homes, and have a difficult time imagining homes that are slightly outdated even if these homes may have potential for a minor home improvements of sorts using new colours, flooring and/or light fixtures.  I get it … it's difficult to imagine what a home with dark walls, arches, columns and outdated finishing might look like.  I wanted to show you an example of a 2800sq.ft. 15 year old home my clients purchased last summer … and with a bit of a vision and a budget of $43,000, they were able to turn it into the home of their dreams within one month.  This is what they did:
Removed archways and columns by dining room and great room, and added sliding barn doors where dining room used to be to convert it to study (approx. $4,500)
Painted throughout – walls, ceiling, trim, doors, railing, baseboards (approx. $15,000)
Installed new vinyl plank flooring throughout main floor, kept original carpet on stairs and second floor (approx. $10,000)
Replaced fireplace feature wall in great room, kept original fireplace (approx. $7000)
Painted cabinetry (approx. $4,500)
Installed new light fixtures in kitchen, study, dining, and bathroom (approx. $2,000)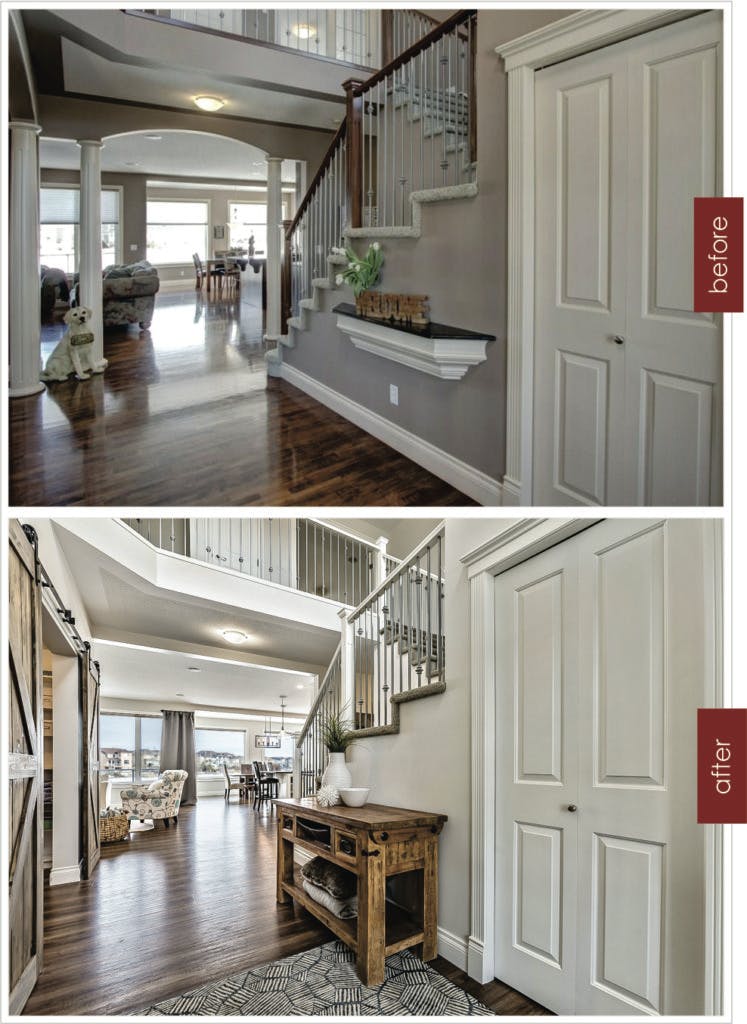 ***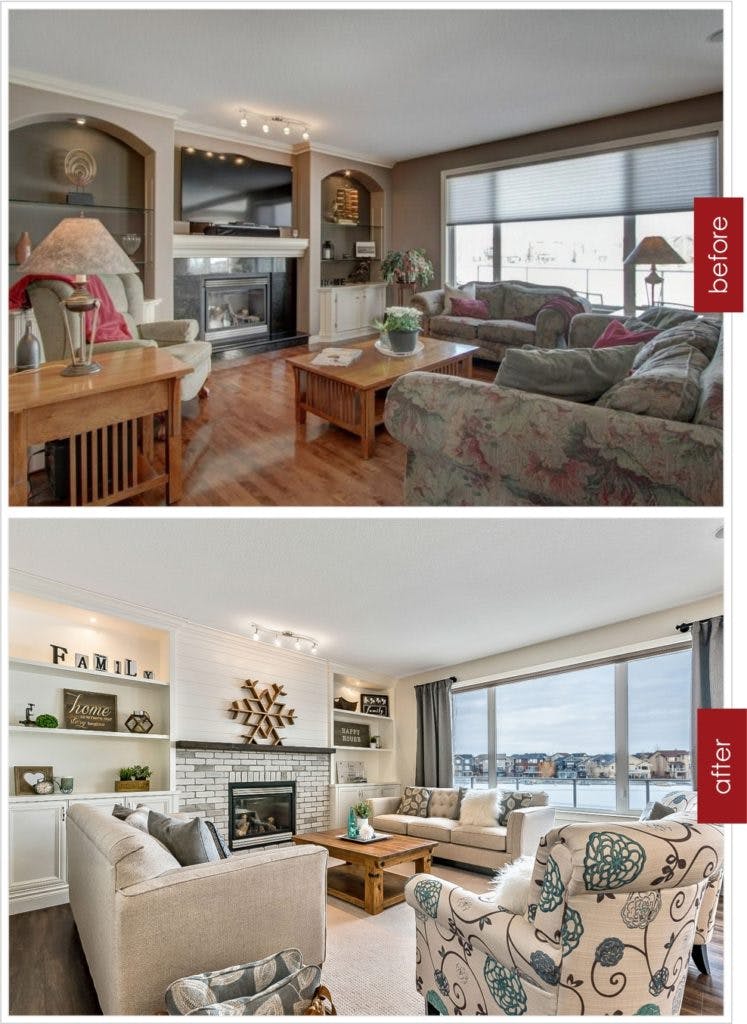 ***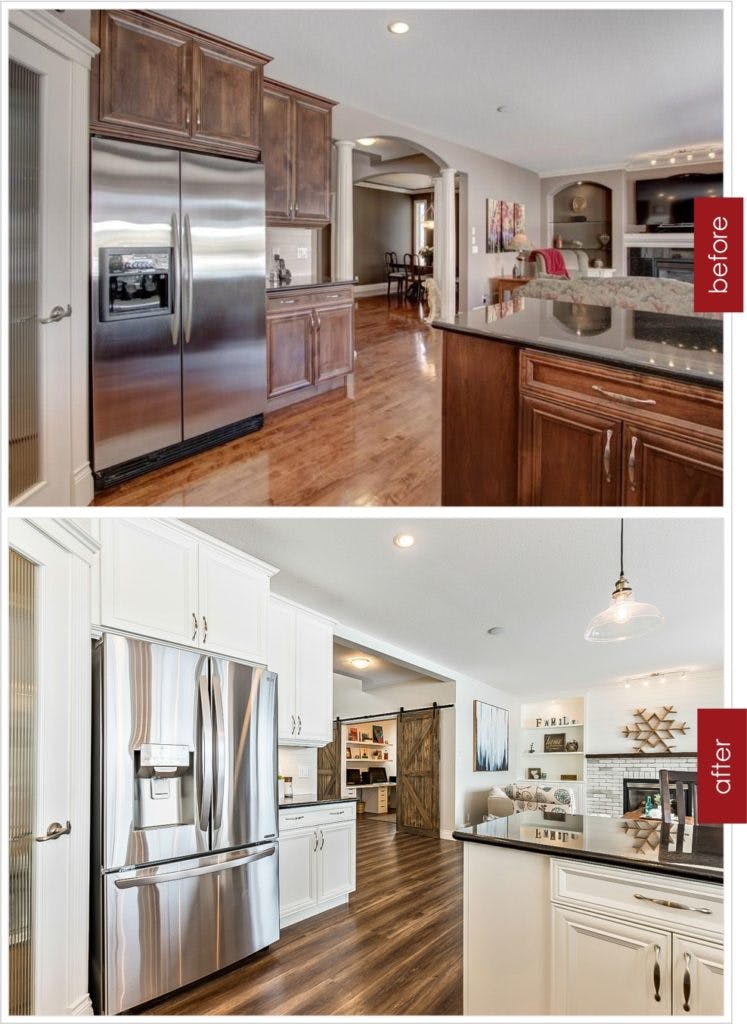 ***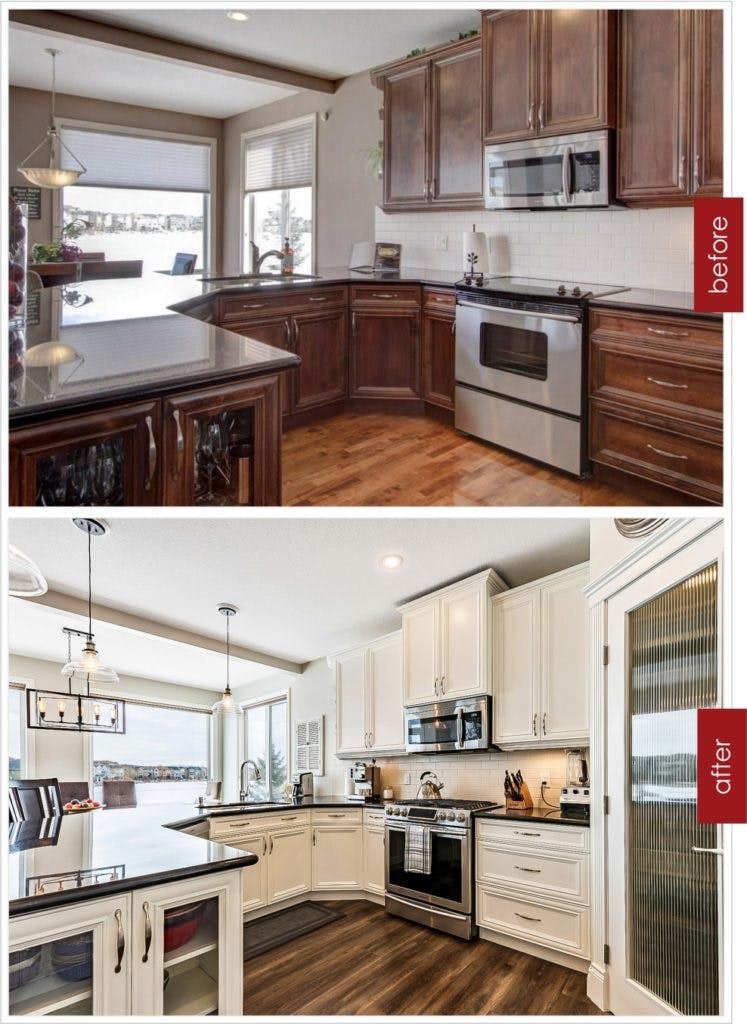 ***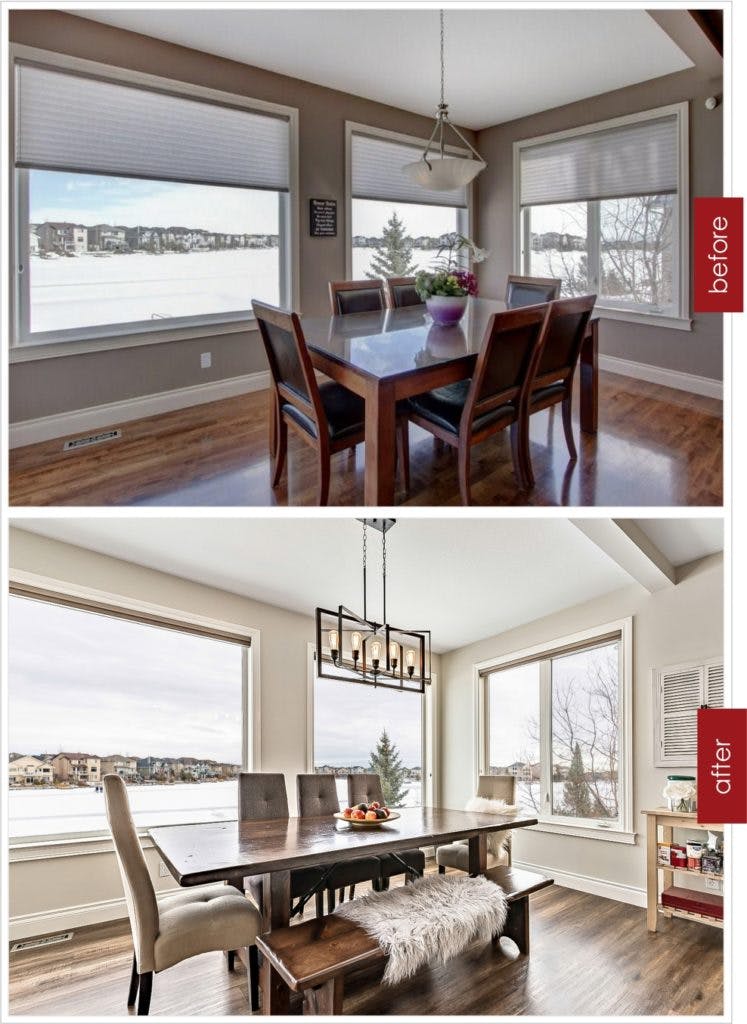 ***
Despite the fact that many older homes are built with formal dining rooms, not many people use formal dining areas nowadays and have a difficult time imagining what they'd do with the space.  For this reason I absolutely LOVED the conversion of original formal dining room into the teenagers' new hangout space.  I've been told by these buyers that this room is now one of the highest use spaces in the home.  Dining room used to be just off of the main entrance with a large arched entrance flanked by columns, with dark brown walls.  The new space exudes function, character and charm, with the removal of arched entrance and columns, the addition of sliding barn doors, new light fixture, and light walls.  Check out the pics below: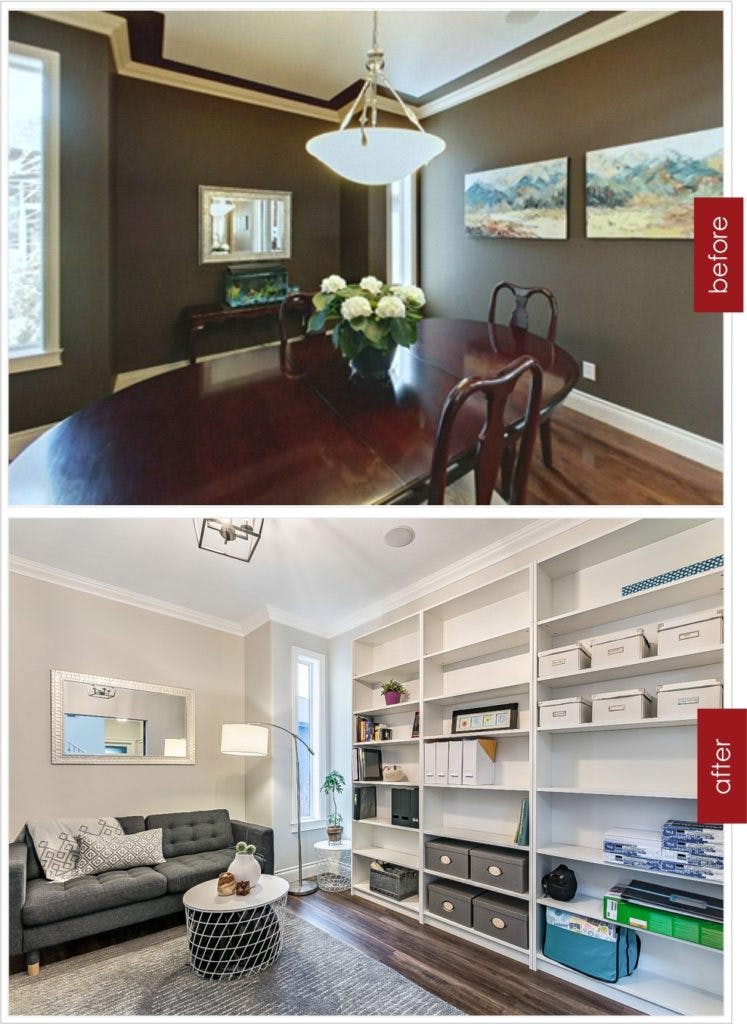 ***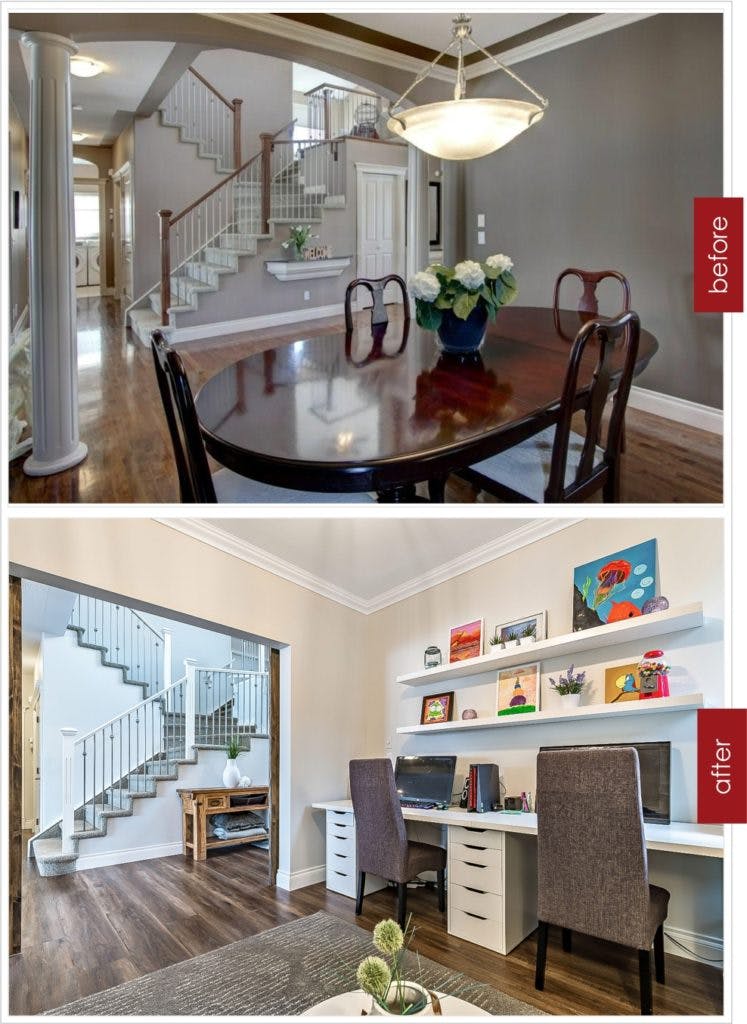 ***
Then there is the bathroom of course.  Such a small space but often forgotten.  The facelift here involved painting, shiplap along one wall, and the addition of new mirror above the sink.  Super simple and yet so awesome!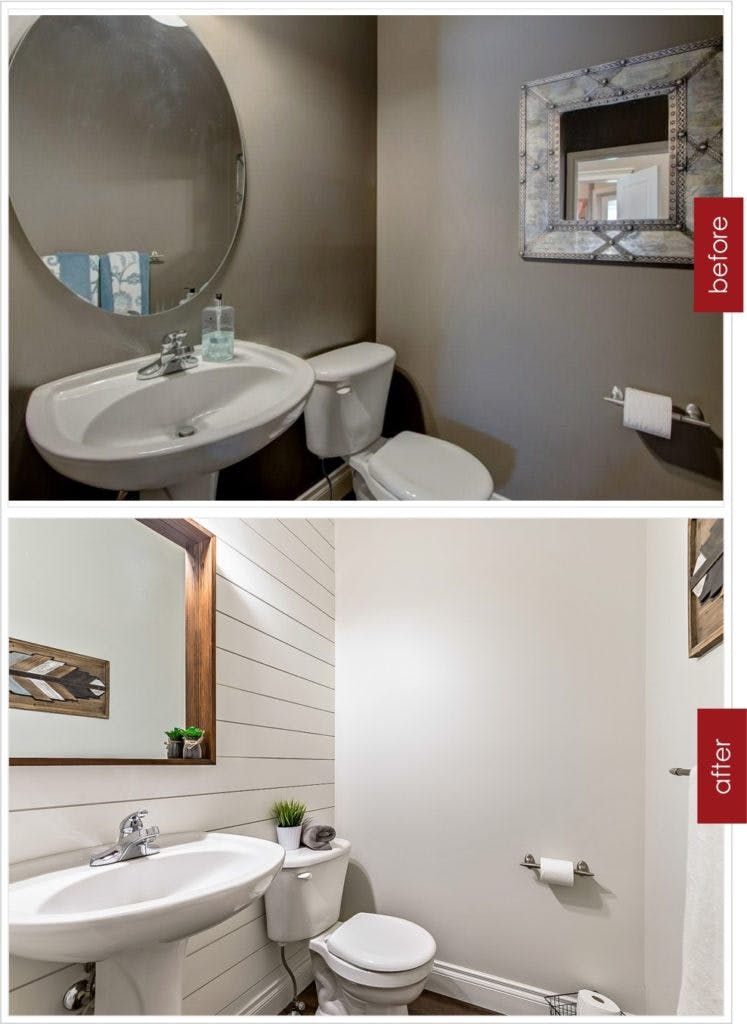 ***
Not everyone is up for the challenge of doing facelifts to outdated homes, and that's ok.  The above is meant as inspiration for those of you who are open to it.  Enjoy and be inspired!